We found your perfect match!
25% off with code: COCO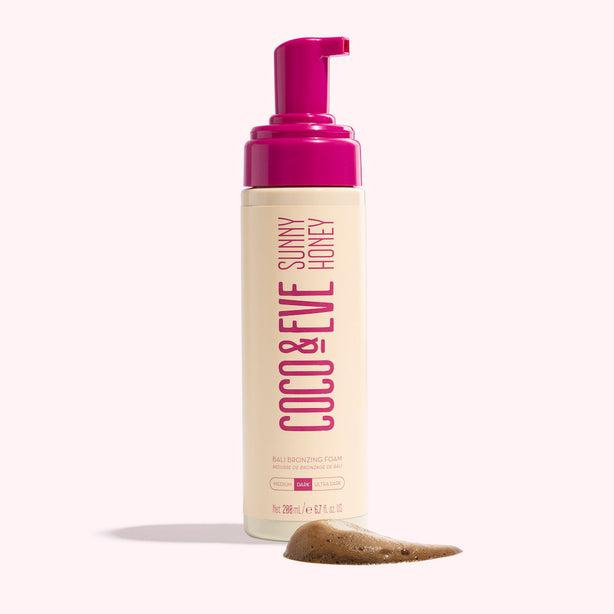 Sunny Honey Bali Bronzing Foam
Anti-cellulite, anti-ageing self tan with zero nasties. Created using unique CellushapeTM formula to hydrate and firm the skin.
Terms and Conditions
1. Remove unwanted hair and exfoliate thoroughly (ideally 6-24 hours before.)

2. Apply to dry skin, free from moisturisers.

3. Use Mitt & Brush to apply to tricky areas like the feet, hands, face & ears.

4. Allow to develop for a minimum of 2 hours or overnight for a deeper tan.

5. Shower in warm water to remove the guide colour and pat skin dry.

6. Repeat every 5-7 days or when needed. Moisturise daily to maintain results.

Which Sunny Honey colour should I go for?

Sunny Honey Self-Tan aims to get you a natural finish! So when choosing which colour to go for, consider what skin tone you are naturally and how dark you would like to go. If you have a lighter skin tone with pink undertones, try our Medium tan to give your skin a subtle glow. If you are a natural medium skin tone aiming for a "just back from holiday" glow, try our Dark tan. If you have deeper skin and want an extra glow boost and to even your skin tone, go ahead and try our Ultra Dark tan. Check out REAL Reviews here

Will make-up remover take off my tan?

It depends! Regular make-up remover shouldn't take off your tan. However, exfoliating removal cream or wipe may as the physical exfoliants will cause dead skin cells on the surface layer of the skin to be removed.

I have acne prone skin, will Sunny Honey cause me to breakout?

Our Sunny Honey formula is perfect for all skin types! It contains ingredients that have a low comedogenic rating meaning it will not clog pores and cause breakouts.

Will the sweat ruin my tan?

NO, sweat shouldn't ruin your tan but we recommend avoiding sweating until your tan has fully developed. Once you are happy with your colour and have enjoyed the results, go ahead and jump in the pool or go ahead with your usual workout regime, but note that seawater and chlorinated swimming pools may cause your gorgeous tan to fade faster.

See all Product FAQs

We offer FREE Standard Shipping on all merchandise orders within Malaysia.

Country
Standard Shipping
(Orders over RM150)
Standard Shipping
(Orders under RM150)
Malaysia
1 - 2 days
FREE
1 - 2 days
RM19.90

Return & Refund Policy

We offer a 30 day return & refund policy with a 100% money back guarantee. For more details see more.

Contact our customer service team, click here.
Shop the Routine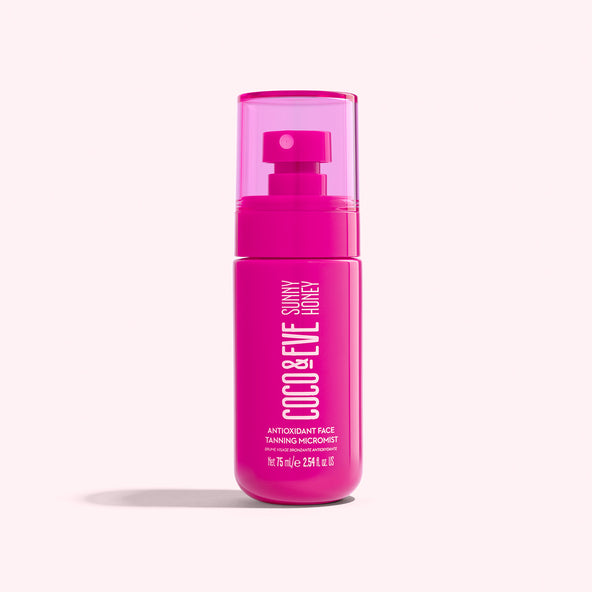 Thoughtful at every step
At Coco & Eve, we're passionate about creating the very best products for your hair, skin and body, while taking care of our one precious planet. Inspired by the incredible plants, wildlife and people of our beautiful birthplace of Bali, we're committed to making a positive, lasting impact.
We consider every action we take to ensure our slice of Paradise survives and thrives – ready to enchant future generations of explorers.
Read more